A weekly gathering to meditate, learn, share and befriend!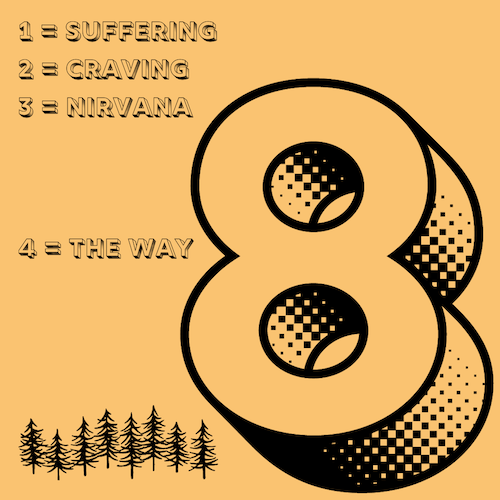 For the time being, our Tuesday Friends' Evenings will be online on Zoom from 7-8:30pm every week. This is a great opportunity to stay connected and find some inspiration. Led meditation, Dharma talks, and engaged discussion. All are welcome, even if you have zero experience! By donation, $5-$15 suggested (see button below to donate).
To join us on Zoom, Click here.
Our Current Series:
The Way to Nirvana — The Buddha's Noble Eightfold Path
The Eightfold Path is more like a tree than a sidewalk. When we think of walking a path, we imagine following a course from one place to another. That metaphor holds for the Eightfold Path, as it does lead from Samsara to Nirvana. Yet in experience, the Eightfold Path feels more like a tree in that its limbs are connected and present all at once. Sunlight that touches the leaves of one branch benefits the entire tree. Likewise, as we focus on one limb of the Eightfold Path, what we learn there informs and supports our engagement with the other limbs. A beautiful living organism of practice and the fruits of practice sprouts and grows in the light of awareness.
Each week we'll gather to meditate and explore another limb of the path: Vision, Emotion, Speech, Action, Livelihood, Effort, Awareness and Samadhi. We'll see how these integral dimensions of self-transformation work and relate to each other as an evolving process. 
Meditation, Dharma, Community — Every Tuesday 7-8:30pm ET on Zoom. All are welcome and by donation! No need to register. If you'd like to make a donation for the evening click here.
When
March 23rd, 2021 7:00 PM through December 27th, 2022 8:30 PM
Location
14 Heartwood Circle




Newmarket

,

NH

03857




United States
Event Donation
| | |
| --- | --- |
| By Donation | $ 5.00 |
| By Donation | $ 10.00 |
| By Donation | $ 15.00 |